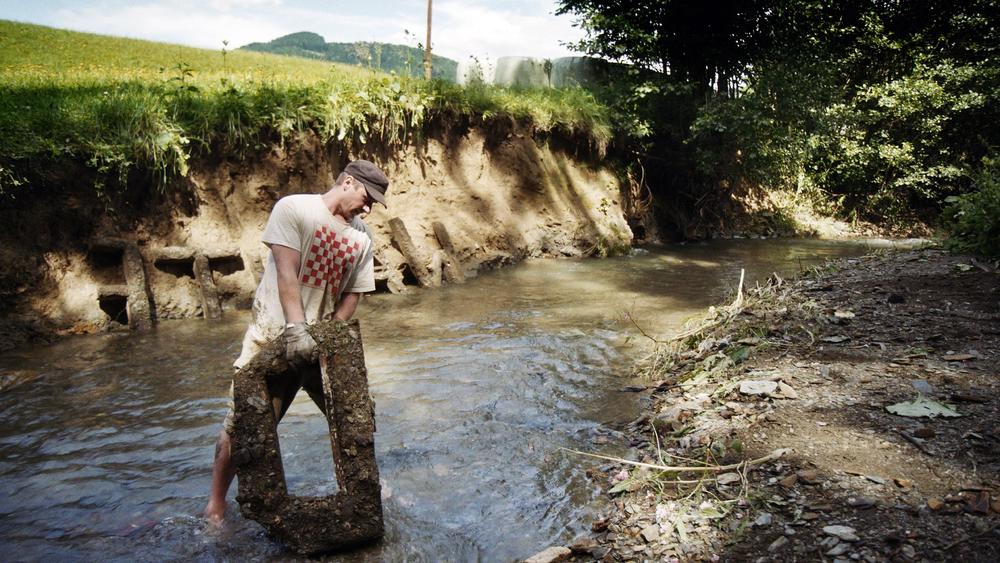 Christian Eisenberger was born in 1978 in Semriach in Styria (Austria). He lives and works in Semriach and Vienna. After a locksmith apprenticeship, Christian Eisenberger studied painting at the Ortweinschule in Graz in 1999. In 2000, for a short period, he attended Brigitte Kowanz's Transmedial Art class at the University of Applied Arts in Vienna.
His cardboard figures received early attention, and he distributed more than 9,900 of these works on streets and in public squares worldwide. Eisenberger still works with cardboard, adhesive tape, and waste material, but he also now uses other possible materials and mediums: he effortlessly moves between painting, sculpture, video, performance, street art, and land art. His way of working is characterized by intemperance, the pleasure to work, tempo, and coincidence. Through constant repetition, he is perpetually creating new series. Despite all abstraction, the human being remains a recurring motif.
In 2002, Christian Eisenberger opened "K2", a tiny exhibition space, in a flower bed in the village center of Semriach. There he exhibited miniature works of art created by artist friends.
The art industry in Vienna became fully aware of Eisenberger when he taped self-printed posters on the windows of established galleries before important vernissages. Fans had already started to systematically take Eisenberger's cardboard figures from the streets to collect them and to sell them.
"Although I always paint the same head, it is never the same head. There are always differences and I find that exciting".
Christian Eisenberger
As of 2006, Eisenberger was exhibiting in art galleries. He achieved success during art fairs through exhibitions with gallery owners Viktor Bucher and Philipp Konzett. Since 2013, Eisenberger has been represented by the Viennese gallery Krinzinger.
"The studio is the size of an indoor tennis center with thousands, if not tens of thousands, of artworks. But it also has a table at which he works. There are all kinds of paintings on the floor. He pours something on them, an acid or something similar, that eats up the painting and gives it a new design. If I had a little money, I would buy the whole studio exactly as it is, buy everything, then close it, and leave it that way for at least a hundred years".
Nicola von Senger, Gallery Owner and Art Collector, Zürich
http://christianeisenberger.com
https://en.wikipedia.org/wiki/Christian_Eisenberger